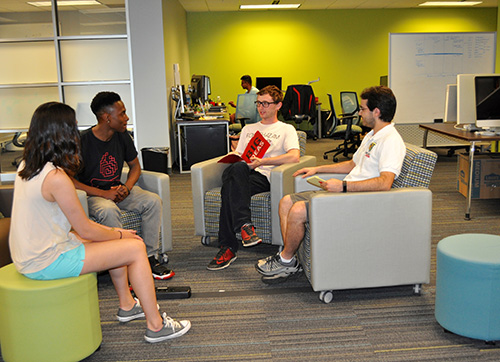 Claude McKinney, who developed the master design for Centennial Campus, looked at collaboration as a contact sport. He would be very proud of how the campus continues to live into his vision. The latest example of spaces designed to foster multi-disciplinary collaboration is provided by the NC State Department of Computer Science, with the opening of its new Games and Visual Narrative Suite located in Venture II on Centennial Campus.
The suite of approximately 9,000 square feet is dedicated to storytelling in interactive games, and shared between fifteen faculty members from seven different departments. Not only does the space create a home base for the cluster, but also includes a dedicated game-centered 40-student classroom and research facilities for 10 faculty and 50 students studying computer science, computer engineering, art and design, and humanities.
Dr. Arnav Jhala, associate professor of computer science at NC State, maintains the importance of disciplines working together for a final product.
"We look at games as being significant parts of our everyday culture", explains Jhala, "Combining research of different disciplines, we are able to understand how games and humans interact though computational methods."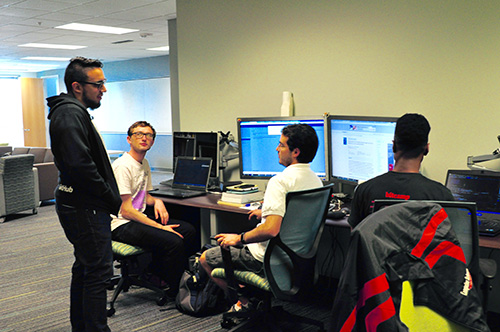 Experts from their own field have access to a communal area for teaching and performing research around games and their technical, social, and educational context. Conveniently located two blocks from NC State's internationally renowned Hunt library, the center has access to the library's technologically advanced facilities as well.
As a professor of Computer Science, Jhala has been able to experience first-hand the space's benefits. Most recently, the center provided an opportunity for the professor to work with artist Hope Hutman on a collaborative project called Silent Movie that allows participants to collaboratively construct short films from silent movie clips. Data collected through the project will provide insight on how short clips can be recombined for rich visual storytelling. Many of the projects executed by Jhala and his peers reach beyond traditional goals to impact the lives of millions.
"We use games to understand our own cognitive processes. Through understanding these cognitive processes, we can improve one's quality of life, like elder care for skills development and so on."
The Digital Games Research Center acts as the heart of games research across two campuses, seven departments, and thousands of students, faculty, and staff that comprise NC State University. While the center is a fairly new development within the department, one thing is for sure: the space creates an endless amount of possibilities in the gaming world.
~scanlon~